At 11:55am on the 1st October, 2007, my darling Lucy-bun died in my arms.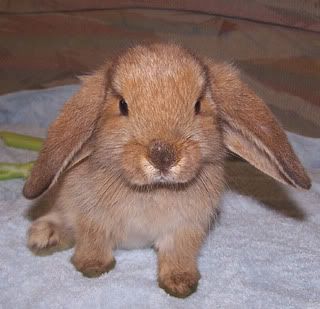 The tiny wee floppy eared bun was the first one that came up to me in the pet store, I knew she was mine. I had no idea what to call her; the shoebox she was stored in was for a pair of Nike shoes, called "Lucy". That was it. Since we had driven to the store in two separate cars, so mum took Bella home in her shoebox, and I drove Lucy. I talked to her the entire way home, and haven't stopped since.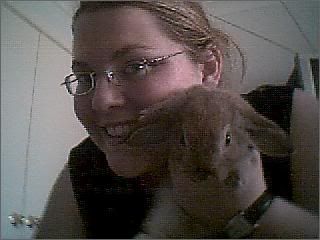 I worried about her all the time; Bella was so much bigger, and I was sure that my little Lucy was going to squeeze through the bars of her hutch! Lucy was tiny! I couldn't get over how small she was, or how delicate. But my two bunny girls adored each other, and would constantly snuggle and groom and flop.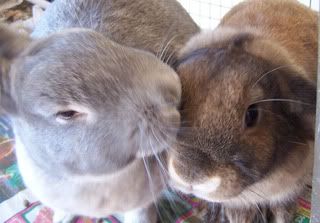 She was always the snugglier of the two buns, and would love to just lie on your lap. She is the only bunny I've ever known that gave out bunny kisses. She was always so gentle, still adored snuggling and exploring, and was prone to headbutt you if you got in her way. (Which sort of hurt, actually.)
After discovering that she had been picked on and while looking after her horrible sores, we had kept her inside for the past two weeks. Lucy was adorable! She'd run to the bars to greet you, follow you around her cage and grunt at you when you picked her up.
Her sores had mostly healed, and she was doing fantastic; but I suppose it's really hard to know what goes on inside those tiny little bodies. Bunnies are resilient little creatures, so I had no idea that anything was wrong with her this morning.
She gave me her usual little squeak (a happy one!) as I put her out on the grass enclosure so she could run around, which she did as always. But a short time later, she had flopped to her side, and wasn't responding to anything. She couldn't stand, she couldn't hold her head up, and she looked terrible.
I gave her a little water, wrapped her in a towel and stayed with her - and she stopped breathing a while later. I have to say, this is the hardest thing I've ever had to do, sitting with her, bawling and talking to her, not knowing what to say or do. But now my beautiful girl is gone, leaving me with another ache.
Rest in peace, my darling Lucy-bun. I'll remember you, always. And I'm so, so sorry.