It's been a while since I mentioned the kidlets on the blog. School is back, we're in Term 4 and we're counting down the days until Christmas.. or is that just me?

We're doing a unit of work on Transport this term, so an excursion into the city was planned. (I even wore my "I'm a Noun!" t-shirt for the special occasion.) The weather couldn't have been more gorgeous. It was another stinking hot day, but a good one. For those who aren't aware, the school I teach at is around an hour or so from the city of Sydney, so a lot of kidlets had never been there before.

After a relatively calm bus ride into Sydney, our first stop was walking across the Harbour Bridge. We strapped the kids into their harnesses, had them leave their bags behind, and soon they were ready to begin the bridge climb.**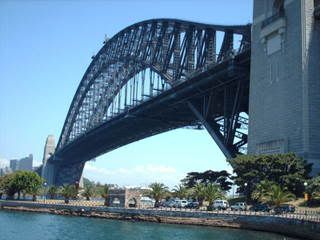 When they were done, we had lunch on the grass under the bridge, walked around the boardwalk near Luna Park for a while, and lined up to catch a ferry around Sydney Harbour. It was much cooler by the water, and it's true what they say: Sydney really is the most beautiful city.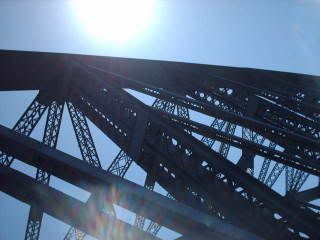 The kidlets had a ball on the ferry ride, and when we got off they were already exhausted. We trekked up to the Monorail station, did the loop around the city, and headed for the park in Darling Harbour. The kidlets had their lunch, I had my frozen coke slushie from McDonalds (bliss!) and they got to play on the equipment.
Back on the bus we got, hot and sweaty, but all in fairly good spirits. Apart from one little girl whose nose started bleeding like a tap on the way home, it was a fairly uneventful excursion; and as any teacher would say, those are the best kind!
As for me, I'm certainly going to miss Sydney when I'm away. I don't get in there much, but always appreciate it when I'm there. It's a heck of a lot different to the London skyline, that's for sure.
(Two months and three days to go, in case you were wondering.)
**Did I have you going for a minute there? We did the flat pedestrian walk across the bridge, not the bridge climb! And here's a certain crazy teacher posing on the Harbour Bridge in front of the Opera House, just because she could.