So before I begin, I should inform you that I have tried to take photos of the birthday ring to share with you guys. Honestly. My camera though, isn't having a bar of it. Guess that's what you get for buying an el-cheapo digital camera with no zoom and an automatic flash. And for having a pale hand. Every time I try to take a picture of it, the flash turns everything white (well, whiter than it already is) and you can barely even tell I'm wearing a ring. I'll keep working on it.

But can I at least distract you with random animal/us pictures? Yes? Excellent!

You'll have to excuse the dodgy formatting, because I've figured that this theme? It does not like anything too fancy used with it. Center? Doesn't work. Trying to insert some basic html to get paragraphs? Er, no. And since my host has changed it's file servers, I'm stuck.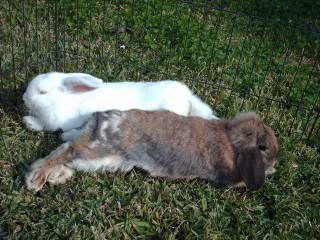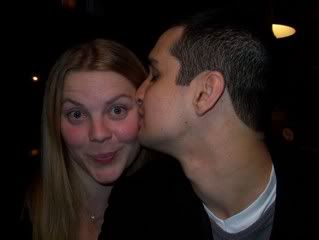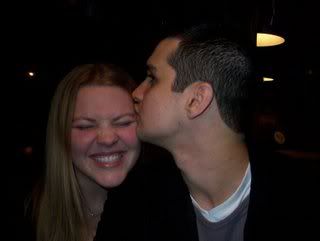 First is tanning bunnies. Watching them flop down on the ground is priceless. I did have other bunny pictures to show you, but this blog is being evil enough as it is already.  And next, these are my last photos that will be taken with Jase before he flies to London -- TOMORROW.  [Loud wailing.]  You'll have to excuse the red face and puffy eyes, and no, it's not from bawling at the thought of him leaving. It's the head cold and ahem, upper respiratory viral infection being plain old nasty. [Bleh.]
Anyway, safe travels, dude. I love you. And I'll miss you. And just think of the perks over there, other than enjoying yourself in a foreign country and all. Let's face it, without my germs, you're most likely going to be sickness free for a while.And you'll get to go sightseeing!And be a tourist!And have fun! And maybe, just maybe, I'll learn how to mend holes in socks while you're away. Not that I'll be mending your socks like a house mistress or anything, but you know. It's a handy skill to have. Innit?