It's been a couple of months since I lost my
Bella-Rabbit
unexpectedly. (sniff)
It's been a couple of months since I grew tired of watching
Lucy-Bun
look lonely. (sniff)
It's been a month since I bought Jason a bun named
Ricky-Ricardo
for his birthday. (ha!)
You might have remembered my worried posts from a couple of weeks ago. My two aptly-named bunnies, Lucy & Ricky, hated each other. They'd be fine for the first few minutes, but then I'd be greeted with teeth gnashing, foot stomping & tufts of fur flying.
Things were looking pretty grim in the Bun Mansion.
Until now.
I finally possess photographic evidence that I am not a completely useless rabbit momma.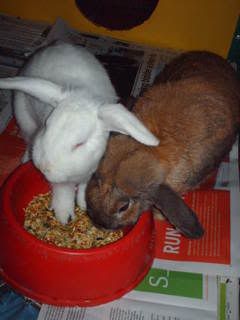 They're not being quite so evil anymore. But I'm holding onto the
t-shirt
, just in case.
Ricky: I'm in ur food bowlz, eating ur pellets. (And feets! Check out his feets!)
Lucy: Move over bitch, I'm hungry.